Pro Tint offers the highest quality, most affordable automotive paint protection services available today. We assist customers throughout the Salt Lake City area, offering ceramic coatings, paint correction, clear bras and more.
No matter how hard you try to protect your vehicle investment, you face the constant threat of paint damage from rocks, grease, contaminants and other environmental hazards. As a result, you end up with chips, swirls, stains and oxidation. Not only do these flaws degrade the value of your car but they also detract from your car's appearance.
Our experienced technicians will apply a virtually impenetrable paint protection film (PPF) or ceramic coating to create an invisible barrier between your vehicle and the myriad of hazards that you encounter every day on the Utah roadways.
Clear Bras & Paint Protection Film
Although we still use the term "clear bras" to describe today's advanced paint protection films, these high-tech car protection film products have come a long way over the years.
PPF applications protect your car's finish and preserve its appearance. In fact, clear bras are one of the most effective ways of protecting your car from rocks, contaminants, bird droppings and other environmental hazards.
We offer a flexible approach that allows you to choose which parts of our vehicle you want to protect. You can limit film application to only the hood and front bumper of the car or you can extend the application to the doors, side mirrors, wheel wells, rocker panels or – for full protection – the entire vehicle.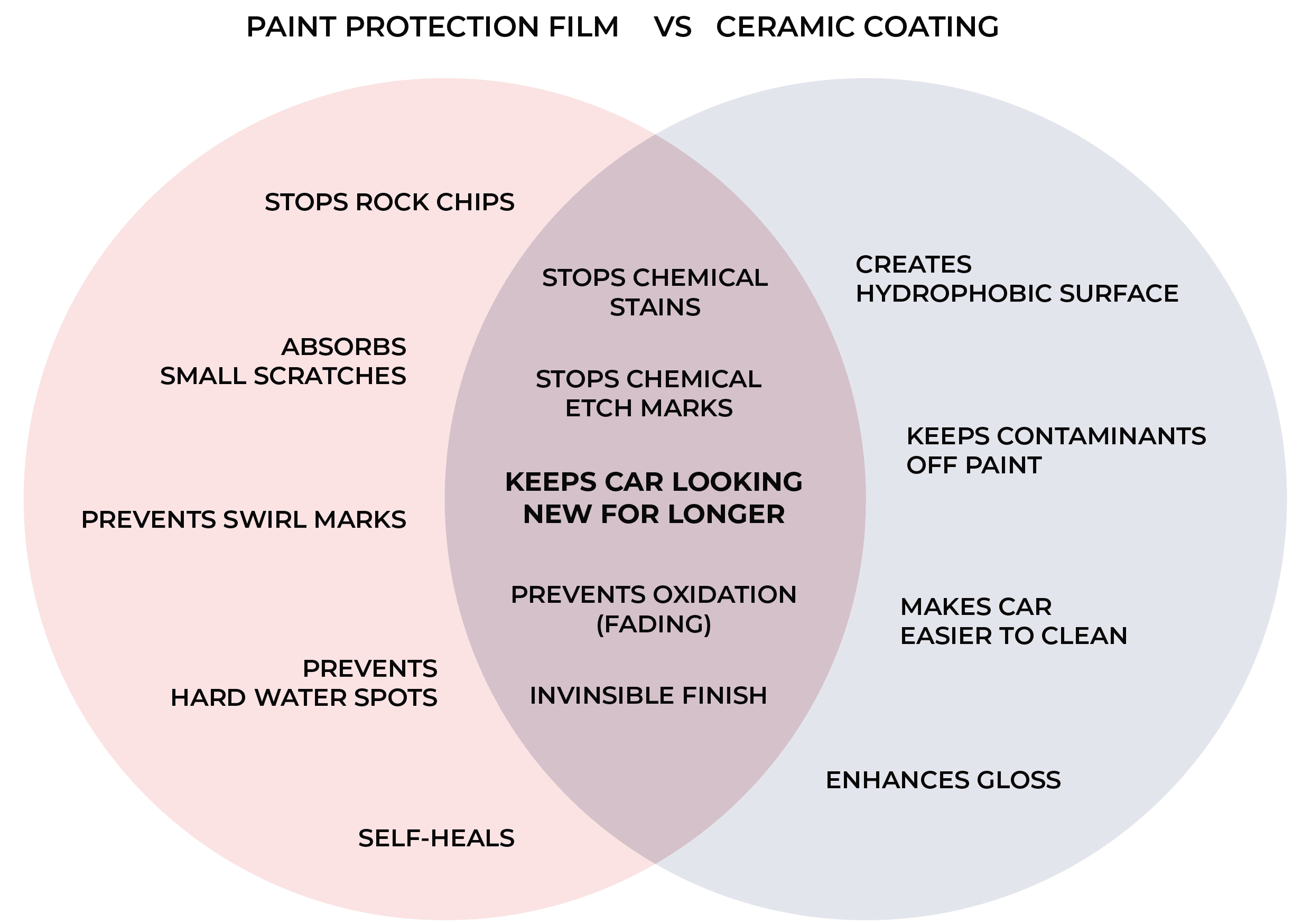 Ceramic Coating for Cars in Salt Lake City
When you trust the Pro Tint team for your automotive ceramic coatings, you can rest assured you'll get the best value and service in the industry. Our ceramic paint protection services protect your car's finish and preserve the value of your investment.
We apply liquid polymer nano ceramic coatings to your vehicle by hand. The liquid adheres to the paint and creates a strong, long-lasting layer of protection. Ceramic car coatings repel UV rays to reduce oxidation. They provide a high-gloss finish that enhances the appearance of your vehicle and makes it easy to clean.
Your vehicle will stay cleaner longer and, when it is time to wash your car, you'll be amazed by how quickly and easily the job gets done. No scrubbing, no waxing, no toiling for hours to get that perfect, glossy shine – it's already there, thanks to these high-tech automotive paint protectors.
Paint Correction
Paint correction services from Pro Tint are an easy and affordable approach for bringing back the original luster of your vehicle's paint.  If you have scratches, swirls, chips, etching, oxidation or haze, our expert technicians can restore your finish to a like-new condition.
Once we have restored your paint, adding ceramic coating or paint protection film will help you keep the vehicle looking like new.
To learn more about our clear bras and automotive paint protection services in Salt Lake City, contact Pro Tint today.