XPEL CS
Quality
Performance
XPEL CS is basically the tint that has been available for many years. The appearance from the outside will be a basic smoked glass, from the inside it has a subtle brown color.
It has a lifetime warranty including color change and will not turn purple. It will help keep your car cool but is on the low end as far as heat rejection.
XPEL XR
Quality
Performance
Our XPEL XR film is color stable. Lifetime warranty backed buy one of the largest tint manufacturer.
It gives you the benefits of a true carbon based film, good heat rejection, a great true black appearance from the outside and a neutral grey appearance from the inside.
It is the most popular film chosen if appearance is the number one reason for tinting your car.
XPEL XR PLUS
Quality

Performance
XPEL XR PLUS combines the power of timeless raw materials and nanotechnology.
Ceramic nano particles create a deeper black that won't make your windows look like mirrors. XPEL XR PLUS technology absorbs energy from the sun instead of reflecting light and radio waves like some other films.
Pro Tint is the Salt Lake City, Utah expert in professional car tint services. We offer full service vehicle window tinting with options to fit virtually any budget. We offer a full line of XPEL products including nano ceramic films.
With a wealth of knowledge and experience, our team installs high-quality film with flawless results. Our prices are fair and transparent and we stand behind everything we do.
We serve customers from Salt Lake City and the surrounding areas of northern Utah from our two convenient locations in Sandy and West Valley City UT.
Benefits of Car Window Tinting
Adding tint to your vehicle's windows provides a variety of benefits.
You'll enjoy improved comfort in your vehicle thanks to reduced heat transfer while driving or when our car is parked. You'll return to a cooler interior that won't take nearly as long to cool down during the summer months.
Blocking a portion of damaging UV rays will help preserve your car's value. Your interior trim and upholstery will be less likely to fade, dry out or crack. Your car will last longer and potentially be worth more when it's time to trade it in or sell it.
Adding window tinting to your vehicle can also help improve safety and security. Potential vandals or thieves won't be able to see inside your vehicle as well and you'll enjoy enhanced privacy as you drive. Finally, tint can help prevent injury if you are involved in a crash by helping reduce flying glass.
Reduces Heat
We all know how hot it can get when a car sits in the sun for an extended period of time. The solar control properties found in automotive window films can greatly reduce the level of heat gain inside a car providing more comfort for the driver and passengers. Additionally, this heat reduction will lead to better fuel efficiency because car owners can rely less on air conditioning to provide comfort. Our Films have heat rejections of up to 86%.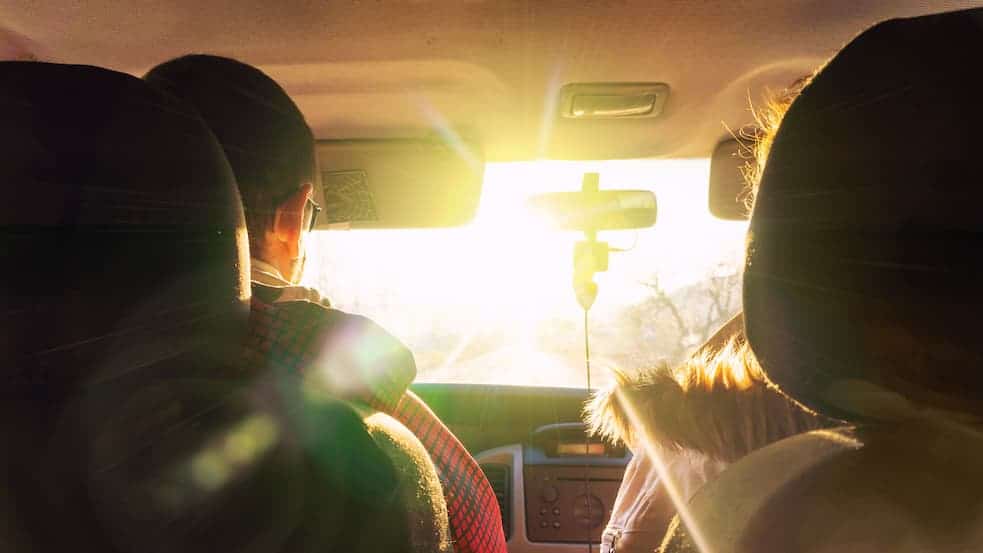 Reduces Glare
The presence of glare while driving is not only distraction but dangerous as well. Window film does an excellent job at minimizing the level of annoying glare entering a car window. This will improve vision and safety and help prevent strain on the eyes. Our films will reduce the glare by up to 89%.
Blocks UV Rays
It has been proven that UV rays from the sun can cause serious damage to the skin as well as increase fading on interior car furnishings such as dashboards, seats, floor mats, and stereo equipment. Automotive window films help to reduce the level of interior fading and protect skin by blocking up to 99.9% of the sun's harmful UV rays.
Full-Service Car Tint Services
If it has windows, we can tint it. Whether you drive a passenger car, pickup truck, SUV, Jeep or van, we have the perfect automotive tinting solutions you need.
Our XPEL XR PLUS product uses nanotechnology to provide best-in-class performance. This product blocks up to 99% of UV rays, reduces glare, resists scratches and includes a lifetime warranty.
XPEL XR PLUS leverages ceramic nanoparticles to create a darker, non-reflective surface that absorbs and traps energy rather than mirroring or redirecting it outward.
We also offer XPEL XR, designed to enhance visible light while hindering heat transfer. This innovative product does not change the appearance of your windows but deflects heat better than many dark tint products. XPEL XR products deflect up to 97% of infra-red and 60% of solar energy.
Salt Lake City's Car Tint Experts
Don't let our low prices and friendly service fool you – you won't find better quality or craftsmanship than we provide at Pro Tint. We are perfectionists with an obsession for detail. We wouldn't want to drive around with bubbly tint or poor installation, and we won't let you do it either.
When you trust us for your car tint, you will have the benefit of our extensive training and experience. We help you determine which products are right for your needs and budget, because we won't be happy with anything less than your unconditional satisfaction.
When you want the best car tint shop in Salt Lake City, call on us. We look forward to answering your questions and helping you get the high-quality, professionally installed car tint you've been looking for.